IDS Equalizer
The IDS-25 Loudspeaker Equalizer is designed specifically to complement the IDS-25 loudspeaker. Together, the speaker and equalizer make the complete IDS-25 system. The contour is unique for the IDS drivers, including their arrangement in a long column.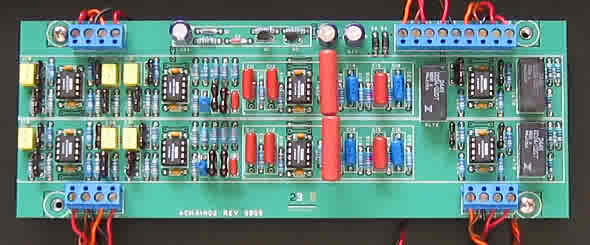 The circuit contains high-speed op-amps, film capacitors and metal film resistors. A mode switch is included to allow the user to leave the equalizer connected to the system but electrically flat in response, in case a different speaker is being used.
Response is electrically flat at the OUT position.
The mode selector must be at the IN position when the IDS-25 system is used.
Both balanced and unbalanced connectors provided for inputs and outputs.
A line voltage switch is also provided for 120V and 240V. The AC 3-wire line cord is removable.
Equalizer Specifications

Frequency response

20Hz to 20 kHz

Harmonic distortion

less than .01% at I KHz

Signal to noise ratio

better than 110 dB

Input Impedance

50k ohms

Output load capability

500 ohms minimum

Output impedance

50 ohms

Maximum input voltage

8.8 V rms

Maximum output voltage

8.8 V rms

Power requirements

120/240 VAC, 50/60Hz, 10W

Dimensions

17" Wide, 8.5" Deep and 2.8" High

Construction

All metal cabinet, white legend

Weight (net)

9 lbs

Front panel Controls:

Mode switch

in/out

Power switch

on/off

Rear panel Connectors:

Unbalanced in and out

RCA phono

Balanced in and out

XLR type